Even though it has been a month since the wedding of Prince Harry and Meghan Markle, the memories are still fresh in our minds- the bride's entry and the groom's teary eyes during her entry. For the groom, the wedding is a day's affair but for the bride, the wedding starts the day she said yes. Her mind starts racing because she has to decide the date, the venue, the catering and most importantly, her wedding gown. Which is why, with a pen and paper in our hands, and thorough Internet research, many of us have already set our own wedding goals for a royal wedding of our own. Having a royal wedding does not mean that you need to splurge big or dig into your savings, it just needs great planning skills and the perfect dress.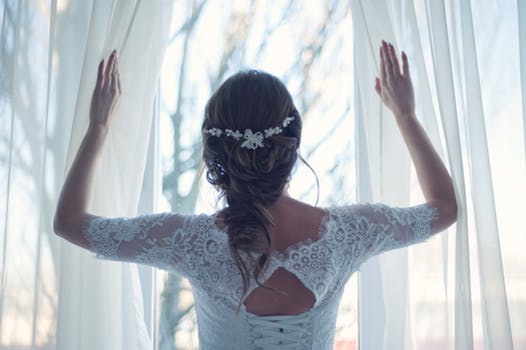 Let's take a look back at the corsets, dresses and tiaras that give us all such feels and a dose of fairy-tale that people will look back at. Here are a few tips on how to get the royal look on your wedding so that you don't just look like royalty but feel like it too.
Keeping it natural:
While many of us think of looking our prettiest on the day of our wedding, does it actually mean caking our face with makeup? If you have opted for an outdoor wedding, keeping your makeup minimal is the way to go. That way, your natural glow has a chance to come out with a hint of blush on your face, showing your happiness.
Instead of trying something bold and dark, stick to your usual makeup routine. To help you get that radiance on the day, consult a skin specialist who will guide you through which type of treatment may suit you because you wouldn't want a zit on your nose right before the big day, would you?
Hair goes the bride:
Wouldn't it be great if we all had shiny, wavy and frizz-free hair that wasn't a nightmare to handle (a woman can dream)? But this is the real world and we all know how hard it is to keep our hair from flying all over the place. You could wear our nicest outfit but if you're having a bad hair day, then the entire aesthetic you were going for, would crumble.
So take some inspiration from celebrities but don't try to go over-the-top with your hair. Nowadays, messy hairstyles have made a comeback and not just because it goes well with short hair as well as long hair but also because they look effortless.
Tip- Go for a simple hairpiece to bring your bun together and watch it add that charm to your look.
Enters the gown:
Makeup check, hairdo check, and then comes the most important part of a bride's look, something that she has imagined all through her childhood- the picture-perfect gown. So whether her bridal style aspirations are chic and minimalistic or elegant and highly sophisticated, a memorable gown is what ultimately deliver a romantic vibe on her big day.
Since there a probably a million gown designs that exist and not all of them are what will bring out your best features, it is best to have your entourage with you when you are going dress hunting. As a bride, you should have at least some idea about what type of gown you want to go for- ballgown, A-line, mermaid or off-the-shoulder neckline and so many more that you can choose from. Whatever gown you decide to pick for your wedding day, make sure that it accentuates your body and watch as the compliments pour in.
To Adorn or not:
Even though the grooms only have to worry about the size of the ring they use to propose marriage with, the brides have a lot more going on in their minds. They worry about what accessories to choose and just how much of each to wear. From keeping it minimal to going over-the-top on the bling (and I'm not even talking about the dress), brides can choose to go down completely different paths. Whether you are a classic bride who appreciates the traditions or you are a trendsetter who makes each style her own; jewellery is the finishing touch to your look on your wedding day.
Those of you who find inspiration from nature will be glad to know that the trend of wearing a flower crown has returned. Depending on the location where your wedding takes place, you'll find that there are different flower crowns that you can wear. These will add that little bit of colour to your entire outfit and give you that dreamy look when you're dolled up in a white gown.
Keep in mind ladies, that even though it helps to have the perfect gown and the grandest entrance, it also adds if you look naturally radiant, and exude confidence on your wedding day.