December-" The Christmas Carnival." The month of snowfall, slush angels, blankets, fireplaces, steaming cups of coffee, and not forgetting, Christmas. It's the season when everything around us is loaded with merriment and joy. This time everyone is searching for the perfect Christmas tree, it becomes a weekend task for us to look for our old decorations in the garage. After all, what would Christmas be without the whole family getting together, gifting presents and decorating the tree & baking the gingerbread cookies?
I know there is always a distinct aura that surrounds us when Christmas is around the corner. Hey Hey! Ho ho! Santa and Gifts are like a tradition. But what most of us seem to forget is that the reason why children love Christmas is the gifts they get from Santa (we all know who the real Santa is though). I'm not saying that the adults don't look forward to receiving the gifts, but they are also the ones who have to buy them. I know it seems pretty early, but how many of you can say right now that you have decided what you're getting for your friends and family. Let me make things a little smoother for you. Many of you probably buy a piece of jewelry for the women in your life, and each year you are confused about which gem you should go with.
This year, why not go for a sliced diamond piece. Diamond slices are thinly sliced sections that have been cut from a more significant portion of the diamond. The shapes are usually unique depending on the vision that the designer is going with. Over the past few years, diamond slices have caught an eye of various designers and customers who are looking for something simple yet elegant. The different sizes, shapes, and colors are a few of the elements that get the designers' creative juices flowing. And since diamonds never go out of style, they make for the perfect gift, no matter what the occasion is. Here are a few sliced diamond jewelry pieces that you can gift and watch the smile on their face light up the room.
1. Necklaces
Sterling Silver Round Rings Necklace Cut-sliced Diamonds and 18K Gold
For those who prefer symmetry in their life, this piece rallies a geometrical and sculptural unity in one glance. It reminds the person wearing it that life is a story that all about maintaining a balance within each chapter. The three diamonds represent the past we've written, the present we're writing, and the future we'll write. Each diamond slices is unique in shape, and they represent the part of our life that is still unraveling.
2. Earrings
Sterling Silver Arch Shape Earrings with Special Cut-sliced Diamonds and 18K Gold
This contemporary piece is perfect for various occasions, whether you're going out for a dinner date with your colleagues or for a friend's wedding. The arch-shaped silver earrings are representative of immortal love which will make a great gift during the season, especially if you've forgotten your anniversary and now you want to make it up to them. And the diamond pieces within them make them an even better choice.
3. Pendant
Sterling Silver Charming Chain Pendant with Special Cut-sliced Diamonds and 18K Gold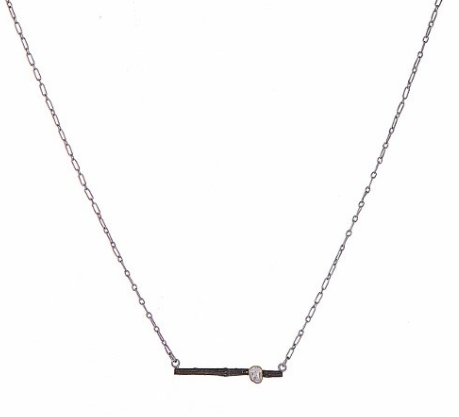 This minimalistic piece has been curated with quality and preciseness which can be observed in its clean design. Those who prefer wearing a chain for everyday use will love this piece. It exudes elegance and simplicity which goes well with almost anything that you wear. Pair it with a sweetheart neckline and bask in the compliments as they come.
4. Bracelet
Sterling Silver Bracelet with Special Cut-sliced Diamonds and 18K Gold
This bracelet with a earthy feel to it, natural texture finishing, and two cut-sliced diamonds make for the right amount of style with an edge. This timeless open bracelet piece is an excellent addition to a bold manicure. Through its free border, the piece heroes its pure diamond that has been placed in the center. The burst of diamonds in this classic piece will shimmer and dance on your hands all night long with a hint of elegance.